Now with a sampler function for increased possibilities and fun!
An effect unit that fits in the palm of your hand.
A powered-up mini kaoss pad 2, the mini kaoss pad 2S ("S" for sampler) is a powerful DJ effect unit that fits in the palm of your hand. It includes the familiar KORG touchpad, which allows you to intuitively control 100 different effects, and a sampler function that makes it easy to load and trigger a variety of sounds. Whether you are playing or performing, you'll have more fun than ever with the powerful mini kaoss pad 2S.
A sampler that DJs can use live.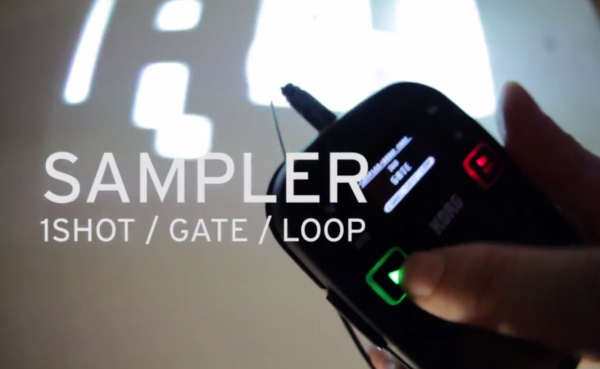 The newly added sampler function let you prepare sound effects or voice samples, and use them in your DJ work or live performance. According to your needs, you can choose from three methods of playback: One Shot, Gate, and Loop. You can also change the playback speed (pitch change) and specify the playback start position (cue point). In addition, the sample recorder lets you capture sounds that are input via either the line in or the built-in mic.
You can also use the unit as a conventional audio player; save your favorite songs on a card and use the mini kaoss pad 2S to apply effects for fun. No other equipment is required.
* Supported file formats: WAV files (16-bit, 44.1 kHz/48 kHz, stereo) MP3 files (44.1 kHz@128, 192, 256, 320 kbps, stereo, VBR supported)
A touch pad to control effects freely.
You can intuitively control effects in real-time by stroking the touch pad with your fingertip. There are one hundred built-in effect programs, ideal for DJ mixing and controlling the sound.
Numerous other functions indispensable for DJ work are also provided.
■ When you take your finger off the touchpad,

 

the FX RELEASE

 

automatically adds a delay effect so that the effect blends smoothly into your song or performance, and avoids abrupt effect dropouts.
■ Excellent for DJ use and live performance, the mini kaoss pad 2S provides three

 

Program Memories

 

for instant recall of your favorite effects.
■

 

The Hold function

 

freezes the effect parameters based on your finger's current location on the touchpad for hands-free operation.
■

 

Auto BPM detection

 

syncs the applicable effects to the tempo of the song, so that everything continues to move in sync for a professional performance.
■

 

The built-in mic

 

lets you apply effects to your voice.


Other functions
Many convenient functions are now available for enhanced usability and enjoyment.
 
■ Record your mini kaoss pad 2s performances in WAV format using .the master recorder function.
■

 

Battery operation and a built-in speaker

 

let you perform anytime, anywhere.■

 

6 Preset audio demo loops are stored in the internal memory. These demo loops provide a handy audio source that can be used to immediately audition the various effect programs, without having to hook up an external audio player.